Forklift Battery Chargers
Thanks for stopping by Forklift-Battery-Charger.com . We carry the PBM industrial quality single and three phase microprocessor controlled forklift battery chargers. These are top quality units. And while they are imported (Italy), they come across that other ocean, where you still find quality manufacturing. These are the top selling, quality units in Europe. They come with a 5 year warranty, which can only be offered on quality units, and we haven't seen a failure yet. On top of that, they are very reasonably priced, for NEW units, and prices INCLUDE delivery in the lower 48 states. Fork lift battery chargers.
12 VOLT FORKLIFT BATTERY CHARGERS - SINGLE PHASE
24 VOLT FORKLIFT BATTERY CHARGERS - SINGLE PHASE
36 VOLT FORKLIFT BATTERY CHARGERS - SINGLE PHASE
48 VOLT FORKLIFT BATTERY CHARGERS - SINGLE PHASE
72 VOLT FORKLIFT BATTERY CHARGERS - SINGLE PHASE
12 VOLT FORKLIFT BATTERY CHARGERS - THREE PHASE
24 VOLT FORKLIFT BATTERY CHARGERS - THREE PHASE
36 VOLT FORKLIFT BATTERY CHARGERS - THREE PHASE
48 VOLT FORKLIFT BATTERY CHARGERS - THREE PHASE
72 VOLT FORKLIFT BATTERY CHARGERS - THREE PHASE
Heavy Duty Ferroresonant Chargers!
PBM forklift battery chargers are available in a variety of models and output voltages (12 volt, 24, volt, 36 volt, 48 volt, and 72 volt) and amperages from 50 amps to 240 amps, with selectable input voltage (208, 240, 480), in single phase or 3 phase power. These units are UL, CUL, CE approved, and have a four digit LCD display, indicating such things as real time delivered current, battery voltage before charging, delivered charge (ah), overall charge time, final voltage reached by battery. They are microprocessor controlled, and dip switch programmable for automatic start, 8 value final charge timer, initial stage timer, equalizing charge. They are fuse protected on the input, and DC output, and overload protected on the transformer. Excellent quality units, and stackable three high.
Charging Forklift Batteries
A lot of traditional lead acid batteries of 250 amp hours and under (deep cycle marine, etc.), are recommended to be charged at a level of .1C, which is 10% of battery amp hour capacity. Some batteries have this printed right on them. For example, .1C of a 100 amp hour battery is .1 x 100 = 10 amp charge rate. Forklift battery chargers are usually sized at .14C to .20C, or 14% to 20% of battery amp hour capacity. It is important to know the ah rating of your battery, if you aren't replacing an existing charger, or to check if the existing charger is sized correctly. You can go a little larger in the charger sizing, but risk overcharging the battery and decreasing its life if you go too large. You can undersize a little, but going too small risks undercharging the battery, and not stirring the battery chemistry sufficiently, not to mention working the charger harder than necessary. Forklift battery cells (and UPS backup type 2 volt cells) are taller than regular lead acid batteries, and the electrolyte can stratify over time, with different concentrations of acid at different levels. A good, properly sized charger deals with this, during the charge cycle, and with an equalizing cycle. Remember, a forklift battery costs more than a proper charger, particularly the PBM units we carry.
Most forklift batteries are designed for 1500 cycles or more, a cycle being defined as discharged 80% (20% charge left in the battery). A complete discharge/charge cycle every day (5 days a week) works out to a little more than 5 years. Forklifts that are not used to this degree (a lot aren't) and are properly charged/maintained can see 15 years or more battery life. Forklift batteries used in solar setups or similar applications where the depth of discharge is not as severe can last 25 years or more. While some recommend waiting until a forklift battery is discharged 80% before recharging (and this may be appropriate for a lift used 6 to 8 hours a day), there are others who believe the less deep the discharge, the more cycles to be expected. We fall into this category, especially using a quality microprocessor controlled charger like these PBM units, charging at 50% or so, or at least once a week for infrequently used lifts.
Anderson Connectors Typically Used
Forklift chargers are typically connected to the forklift via an industrial Anderson type connector, of the appropriate amp rating and color. There are industry recommendations for color based on the equipment voltage, but this is not always followed. We provide these units with the connector used in your particular application, so we want to talk to you before completing an order. Usually these are 175 amp or 350 amp Anderson type connectors, in red, grey, or blue. Color and amp rating are not interchangeable. See pictures below, showing sizes and colors. All colors are used in all sizes (amp ratings). We don't use a shopping cart service with "ADD to CART" buttons to be sure we know what connector to use (or battery lugs for hardwire install), and that the charger is voltage correct and amp sufficient for your battery. Please call.
| | |
| --- | --- |
| | |
| Typical Anderson Connector Colors | Anderson Connector Sizes |
Interesting side project for our company.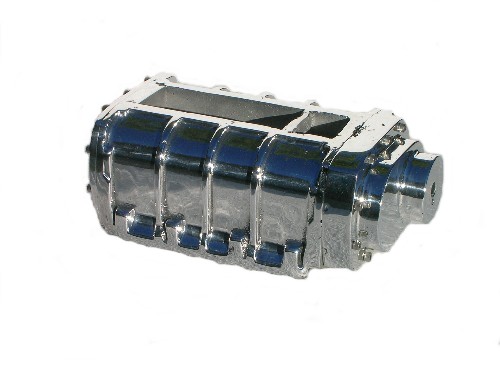 This is the novelty piece for hot rodders and auto shop owners. It is a scale version of the venerable GMC 6-71 blower, cast from aluminum in 3 pieces, and polished to a brilliant luster. It serves as a business card holder, pen/pencil holder, and conversation piece. It also won't blow off your desk or counter. These are designed, pattern built, cast, and polished in the USA. See more at Mini-Blowers.com.